Apartments Villa Astrid - anche appartamenti stagionali in Ortisei - Val Gardena

Information
Apartments in Ortisei Val Gardena - Apartment house Villa Astrid
Unforgettable holidays at the Villa Astrid in Ortisei in South Tyrol, the perfect accommodation for your family summer and winter vacation in the Dolomites
Welcome to our Villa Astrid in Ortisei in Val Gardena.

We are pleased that you visit our Villa Astrid. Located in the heart of Ortisei our house is placed in a nice and quiet area. In front of the house we offer a sunny lawn, screened from winds, that invites you to read and to relax outdoors whenever you want. To all our apartments we offer a free parking place in our garage.

From our Villa Astrid it's only a short walk to the village center with numerous shops, restaurants and cafes. So your car can also have a holiday. The main lift facilities of Ortisei are located in the immediate vicinity of the Villa Astrid and are accessible on foot in a few minutes. The famous Seceda cable car, for example, is situated only 400 meters away and can be reached through the pedestrian tunnel passing directly behind the house. Walkers have the opportunity to go for a walk on the famous Luis Trenker promenade, a flat and sunny path, suitable for strollers, which passes right in front of the house.
Visit the website [www.villaastrid.com]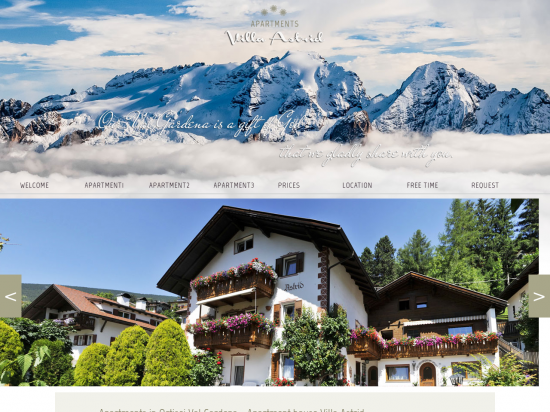 Services offered
Request availability
Remind
Book now!

Apartments Villa Astrid - anche appartamenti stagionali
Str. Rezia 93
I-39046 Ortisei - Val Gardena (BZ)

Tel. (+39) 0471796838
Website:
www.villaastrid.com