Hotel La Montanina in Selva - Val Gardena

Information



La Montanina is located in the heart of the Dolomites, is at the foot of the famous Sassolungo and has free outdoor and underground parking for guests. Our Pension has recently been completely renovated , it offers a particularly pleasant ambience with a cosy atmosphere and has been combined with a high level of elegance and comfort.

Whether you are looking to put your skis on at the door, cycle or hike through mountain pastures and woodlands, or just want a welcome break in beautiful surroundings……leave your daily routine behind you, come and enjoy fine food and have a wonderful holiday in La Montanina.
Visit the website [www.la-montanina.com]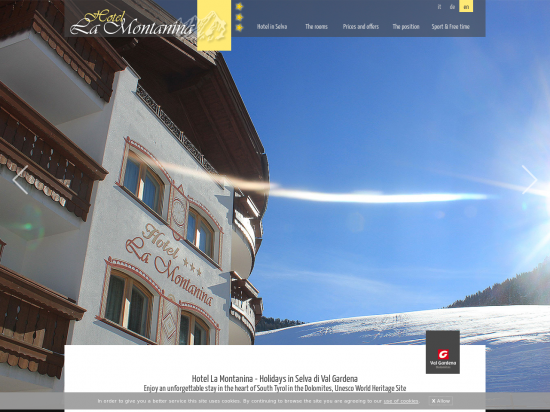 Services offered
Request availability
Book now!
Remind
Hotel La Montanina
Str. La Selva, 95
I-39048 Selva - Val Gardena (BZ)

Tel. (+39) 0471 794610
Fax (+39) 0471 794610

Website:
www.la-montanina.com