Lifts and lift facilities in Val Gardena - summer and winter holiday
The mountains and alpine pastures can be reached easily and quickly thanks to the many lifts and lift facilities in Val Gardena.

Val Gardena provides 175 km of slopes and 79 modern lift facilities for a fantastic winter holiday in Ortisei, S. Cristina and Selva. With the connection to the ski carousel "Dolomiti Superski" with more than 450 lift facilities and 1220 km of slopes, Val Gardena is a true paradise for all ski enthusiasts. The mountain world of the Dolomites can best be discovered with numerous lift facilities by foot or mountain bike on well marked paths.

With the service of the "Val Gardena Card" (for 6 days and for 3 days) all open lift facilities can be used unlimited and free of charge in the summer months.

Funicular Rasciesa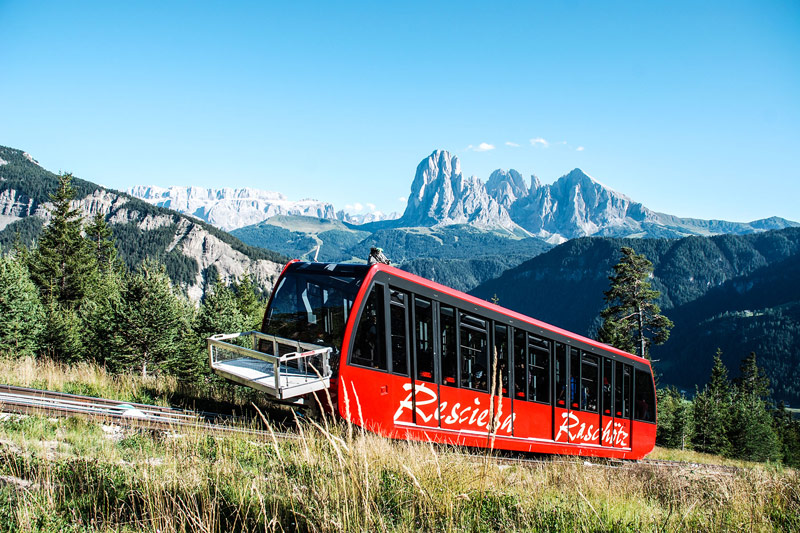 I-39046 Ortisei in Val Gardena
Tel: +39 0471 79 61 74
Visit the website >
Cable car Col Raiser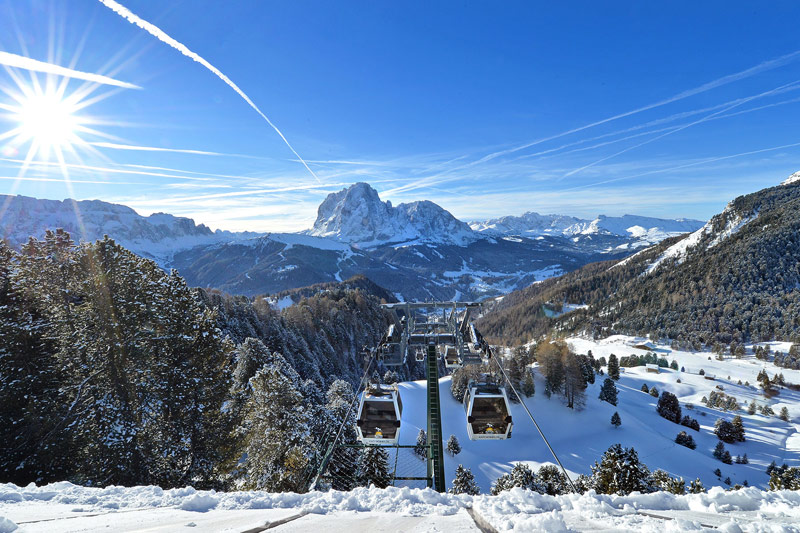 I-39047 S.Cristina in Val Gardena
Tel.: +39 0471 79 20 89
Visit the website >
Dantercepies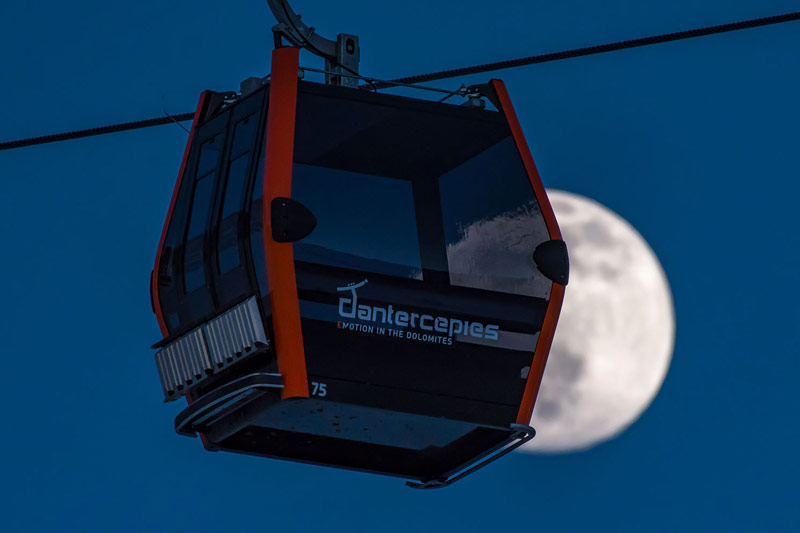 I-39048 Selva Val Gardena
Tel.: +39 0471 79 52 68
Visit the website >
Seceda 2500mt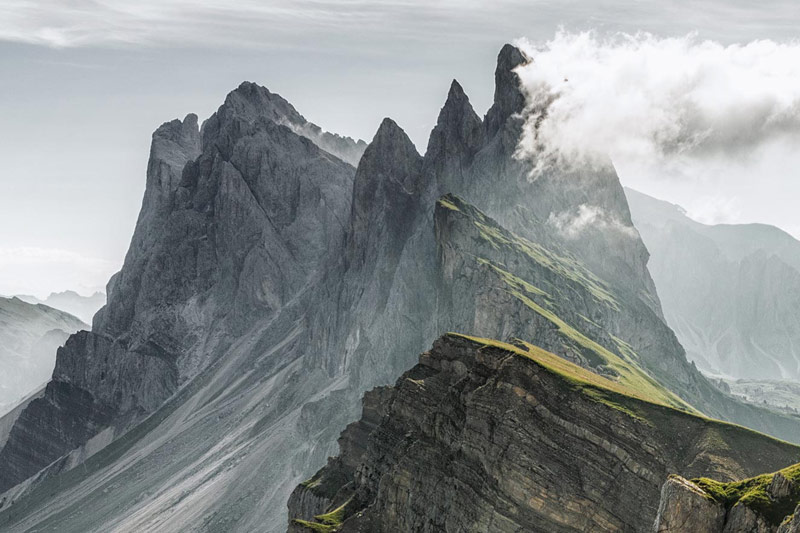 I-39046 Ortisei in Val Gardena
Tel.: +39 0471 79 65 31
Ortisei - Palmer - Furdenan
Nr.
Lift name
Type
State
Season
Hours
1
Ortisei - Alpe di Siusi


Gondola

C

Closed

12/03/21 - 04/09/22
08:30 - 17:00
6
Furdenan


Ski lift

I

Closed

12/03/21 - 04/09/22
08:30 - 16:30
7
Palmer


Ski lift

I

Open

12/03/21 - 04/09/22
08:30 - 16:30
59
Al Sole


Chairlift 2

G

Closed

12/21/21 - 04/09/22
09:00 - 17:00
60
Monte Piz - Rif. Icaro


Chairlift 4

P

Closed

12/03/21 - 04/09/22
09:00 - 17:00
61
Steger/Dellai


Chairlift 2

G

Closed

12/03/21 - 04/09/22
09:00 - 17:00
62
Panorama


Chairlift 6

Q

Closed

12/03/21 - 04/09/22
08:30 - 17:00
63
Bullaccia


Telemix

L

Closed

12/03/21 - 04/09/22
08:30 - 17:00
64
Spitzbühl


Chairlift 2

G

Closed

12/03/21 - 04/09/22
09:00 - 17:00
65
Florian


Chairlift 4

P

Closed

12/17/21 - 04/09/22
09:00 - 16:45
66
Ludy


Ski lift

I

Closed

12/03/21 - 04/09/22
09:00 - 17:00
67
Leo Demetz


Chairlift 2

G

Closed

12/03/21 - 04/09/22
09:00 - 17:00
68
Sanon


Chairlift 2

G

Closed

12/03/21 - 04/09/22
09:00 - 17:00
69
Mezdì


Chairlift 6

Q

Closed

12/03/21 - 04/09/22
09:00 - 17:00
70
Floralpina


Chairlift 4

P

Closed

12/03/21 - 04/09/22
09:00 - 16:45
71
Punta d'Oro


Chairlift 4

P

Closed

12/03/21 - 04/09/22
09:00 - 17:00
73
Laurin


Chairlift 4

P

Closed

12/03/21 - 04/09/22
08:30 - 17:00
74
Paradiso


Chairlift 6

Q

Closed

12/03/21 - 04/09/22
09:00 - 17:00
75
Bamby


Chairlift 6

Q

Closed

12/03/21 - 04/09/22
09:00 - 17:00
76
Eurotel 1


Ski lift

I

Closed

12/03/21 - 04/09/22
09:00 - 17:00
77
Euro


Chairlift 4

P

Closed

12/03/21 - 04/09/22
08:30 - 17:00
78
Strega


Ski lift

I

Closed

12/03/21 - 04/09/22
09:00 - 17:00
83
Siusi - Alpe di Siusi


Gondola

C

Closed

12/03/21 - 04/09/22
08:00 - 18:00
Ortisei - Resciesa - Seceda - Col Raiser - S. Cristina
Nr.
Lift name
Type
State
Season
Hours
2
Ortisei-Furnes


Gondola

C

Open

12/03/21 - 04/09/22
08:30 - 16:15
3
Furnes - Seceda


Cable car

A

Open

12/03/21 - 04/09/22
08:30 - 16:15
4
Resciesa


Cable railway

M

Closed

12/22/21 - 04/09/22
09:00 - 16:00
8
Fermeda


Chairlift 4

P

Open

12/03/21 - 04/09/22
08:30 - 16:30
11
Gherdeina Ronda


Underground ropeway

D

Open

12/03/21 - 04/09/22
08:30 - 16:05
12
Cisles


Chairlift 2

G

Closed

12/03/21 - 04/09/22
08:30 - 16:00
14
Col Raiser


Gondola

C

Open

12/03/21 - 04/09/22
08:30 - 16:10
16
Plan da Tieja


Ski lift

I

Open

12/03/21 - 04/09/22
08:30 - 17:00
81
Catores Martin


Chairlift 2

G

Open

12/03/21 - 04/09/22
08:30 - 16:15
S. Cristina - Monte Pana
Nr.
Lift name
Type
State
Season
Hours
15
S. Cristina - Monte Pana


Chairlift 2

G

Closed

12/17/21 - 04/09/22
08:30 - 16:30
21
Tramans


Chairlift 2

G

Open

12/03/21 - 04/09/22
09:00 - 17:00
23
Mont de Seura


Chairlift 4

P

Open

12/03/21 - 04/09/22
08:30 - 16:20
24
Tschucky


Ski lift

I

Open

12/03/21 - 04/09/22
08:30 - 16:00
26
Puntea


Ski lift

I

Open

12/03/21 - 04/09/22
08:30 - 17:00
27
Cendevaves


Ski lift

I

Open

12/02/21 - 04/09/22
08:30 - 16:30
28
Parallel


Ski lift

I

Open

12/02/21 - 04/09/22
08:30 - 16:30
Selva - Dantercepies
Nr.
Lift name
Type
State
Season
Hours
25
Val


Chairlift 2

G

Open

12/03/21 - 04/09/22
08:30 - 16:30
30
Dantercepies I


Gondola

C

Open

12/03/21 - 04/09/22
08:30 - 16:30
31
Costabella


Chairlift 4

P

Open

12/03/21 - 04/09/22
08:30 - 16:30
32
Nives


Ski lift

I

Closed

12/03/21 - 04/09/22
08:30 - 17:00
34
Larciunei


Ski lift

I

Open

12/17/21 - 04/09/22
09:00 - 16:30
35
Cadepunt


Ski lift

I

Open

12/03/21 - 04/09/22
08:15 - 17:00
36
Biancaneve


Ski lift

I

Open

12/03/21 - 04/09/22
08:30 - 17:00
37
Risaccia 1


Ski lift

I

Open

12/03/21 - 04/09/22
08:15 - 16:30
37
Risaccia 2


Ski lift

I

Open

12/03/21 - 04/09/22
08:15 - 16:30
40
Dantercepies II


Gondola

C

Open

12/03/21 - 04/09/22
08:30 - 16:30
40
Mickey Mouse


Moving Carpet

S

Open

12/03/21 - 04/09/22
08:30 - 16:30
41
Cir


Chairlift 4

P

Open

12/03/21 - 04/09/22
09:00 - 16:30
42
Val Setus


Chairlift 4

P

Open

12/03/21 - 04/09/22
08:30 - 16:30
43
Panorama


Ski lift

I

Open

12/03/21 - 04/09/22
09:00 - 16:30
S. Cristina - Ciampinoi - Selva
Nr.
Lift name
Type
State
Season
Hours
17
Saslong


Gondola

C

Closed

12/03/21 - 04/09/22
08:30 - 16:30
18
Sochers/Ciampinoi


Chairlift 6

Q

Closed

12/03/21 - 04/09/22
08:30 - 16:45
19
Sochers


Chairlift 4

P

Closed

12/03/21 - 04/09/22
08:30 - 16:30
38
Campo Freina


Ski lift

I

Closed

12/17/21 - 03/30/22
08:30 - 16:30
39
Terza punta


Ski lift

I

Open

12/03/21 - 04/09/22
08:30 - 16:30
84
Ciampinoi


Chairlift 2

G

Closed

12/03/21 - 04/09/22
08:30 - 16:30
Selva - Plan de Gralba
Nr.
Lift name
Type
State
Season
Hours
33
Fungeia


Chairlift 3

H

Open

12/03/21 - 04/09/22
09:00 - 16:30
44
Piz Sella


Cable car

A

Open

12/01/21 - 04/09/22
08:30 - 16:30
45
Piz Seteur 1


Gondola

C

Open

12/01/21 - 04/09/22
08:30 - 16:30
46
Piz Seteur 2


Gondola

C

Open

12/01/21 - 04/09/22
08:30 - 16:30
47
Plan de Gralba


Ski lift

I

Open

12/02/21 - 04/09/22
09:00 - 16:30
48
Piz Seteur/Sole


Chairlift 4

P

Open

12/03/21 - 04/09/22
09:00 - 16:30
49
Città  dei Sassi


Chairlift 4

P

Open

12/01/21 - 04/09/22
08:30 - 16:30
50
Gran Paradiso


Chairlift 8

R

Open

12/01/21 - 04/09/22
09:00 - 16:30
51
Comici 1


Chairlift 6

Q

Open

12/01/21 - 04/09/22
09:00 - 16:30
52
Comici 2


Chairlift 6

Q

Open

12/03/21 - 04/09/22
09:00 - 16:30
53
Sotsaslong


Chairlift 4

P

Open

12/03/21 - 04/09/22
09:00 - 16:30
56
Pudra


Ski lift

I

Open

12/01/21 - 04/09/22
09:00 - 16:30
Selva - Passo Sella
Nr.
Lift name
Type
State
Season
Hours
22
Piza Pranseies


Chairlift 2

G

Open

12/03/21 - 04/09/22
08:30 - 16:30
29
Ciampinoi


Gondola

C

Open

12/03/21 - 04/09/22
08:30 - 16:30
55
Sasso Levante


Chairlift 6

Q

Open

12/03/21 - 04/09/22
09:15 - 16:30
151
Salei - Rodella


Chairlift 4

P

Closed

12/03/21 - 04/09/22
08:45 - 17:15
152
Rodella - Des Alpes


Chairlift 4

P

Closed

12/03/21 - 04/09/22
09:00 - 17:20
154
Ciavazes - Grohmann


Chairlift 4

P

Closed

12/03/21 - 04/09/22
08:45 - 16:40
156
Gabia


Ski lift

I

Closed

12/03/21 - 04/09/22
08:30 - 17:00
Live ski tracks state >